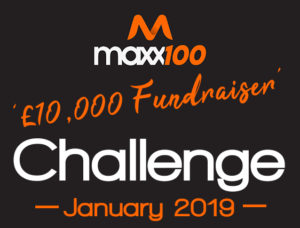 That's us into the last 7 days of the Maxx100 Fundraiser Challenge 2019.  It seems like ages ago since we all entered the New Year of 2019, filled with high hopes, aspirations for ourselves and full of great intentions.  100 days seemed like a very long challenge, however, if you give anything in life enough time, it will eventually pass.  
The Maxx100 challenge, as expected, has been a very mixed bag of outcomes for everyone.  I have been in this game long enough to learn, that if you set a group of people a challenge like this, any size of group, that 20% will do really well, 60% will do average, and 20% won't do near as well as they would have liked.
For the 20% who achieved the goals they set out to achieve, it was just there time.  The stars all aligned correctly, allowing them to give the challenge every effort possible, and achieve the best for themselves.
For the 60% who achieved some great changes in themselves, but perhaps fell short of there intended goals, their journey was a little less plain sailing, with a few of life's obstacles thrown in the way.  Had one or two things been different, their own personal outcome could have also been very different.  None the less, a journey to be very proud of.
For the 20% who just didn't really get started on the challenge, it simply wasn't their time, this time.  Making a major change in ones life requires a lot of things to go right, all at the same time.  Unfortunately, life just doesn't always work the way we want it to work, and is always throwing 'curve balls' in someones direction, and even the biggest plans with the greatest intentions, often need to be put on hold, until a more suitable time.
No matter what the individual outcomes are of all 127 of us that started, the very fact that we all set-out to accomplish something very positive, with the greatest intentions of achieving that which will benefit others, is something to be proud off.   
The final weigh-in for all those still taking part in the challenge, will take place on Friday 12th and Saturday 13th April.  As usual, please weigh yourself in the gym and record your weight in the book, or text me.  Anyone who feels that they didn't do as well as they would have liked, are still asked to weigh themselves and record it in the book, to bring their own individual challenge to a close.    
The collection of all the monies donated into everyone's jars, will commence on Monday 8th April, to be completed by Monday 15th April.  If anyone was unable to complete the challenge but still had some money set aside in a jar during their challenge attempt, those donations, no matter how small, would still be greatly appreciated by the charities.
The preferred method of collecting the donations is via Bank Transfer.  This will prevent a large amount of cash being held at the gym or my house for any period of time.  With mobile banking, almost everyone should have easy access to online bank transfers.  There are 2 ways that you can work it;
1.  Count the cash in your Maxx100 jar, then transfer that amount from your bank account and keep the cash for yourself.
2.  Lodge the cash from your jar into your bank account, then transfer that amount via online banking.
If you are unable to do an online bank transfer, you may bring you cash jar into the gym.  This method is not preferred.
The funds are all being transferred into the Maxx Life business bank account, and 3 cheques, 1 for each charity, will be provided from that account.
When making the online bank transfer, please ensure that you put your full name on the transfer, so we know who it is from.
Details:  Bank – Ulster Bank, Name – Armagh Fitness, Acc# 12990266, Sort – 98-01-90
A table of results will be published to show the total amount of weight lost, as well as the total amount of money raised.  The table will be laid out in the following manner, with initials only of each person revealed.  The table will be ordered in alphabetical order of initials.
Initials – Total Weight Loss – Amount Donated
                Group Weight Loss- Group Amount Donated
In the event of a person donating money but not taking part in the final weigh-in, only their initials and amount donated will be shown.  This is to ensure that all amounts donated are included, to guarantee total amount collected is genuine.
To celebrate the end of the Maxx100 Challenge, we have arranged a drinking session in the Bottle Of Benburb on Easter Monday night.  This is open to everyone who started the Maxx100 challenge as well as any other members at Maxx Life, and their friends.  We will announce the final totals on the night, and hopefully be able to present some of the donations to the charities.