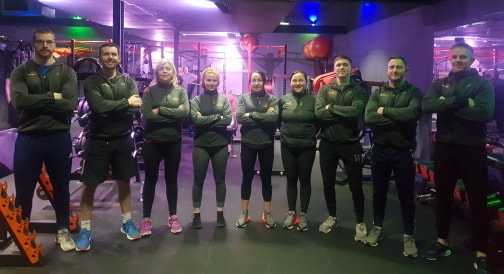 To all our PT clients. 
The PT Membership fee has been introduced, to allow us to provide adequate social distancing during all PT sessions, to contribute towards Covid-19 Hygiene procedures, and to allow us to continue to offer all our fantastic gym membership benefits, to all PT clients.
PT Membership is a nominal monthly fee that all non-member PT clients contribute, that gives you Maxx Life Membership status, referred to now as a 'PT Member'.
PT Membership is required by all non-member PT clients from Monday 3rd August.  Any person who has already purchased PT membership prior to this date, will have their payment date set as Monday 3rd August.
Maxx Life PT Membership benefits include;
Social Distancing:  Enjoy limited numbers in the gym during your PT session, to allow for social distancing, and a better quality workout.  Gym members are not permitted to workout during Personal Training hours.  Not only does this allow for social distancing, but it provides an better working environment that your trainers can offer a superior workout session.  However, this comes at a cost to Maxx Life, as gym members can no longer workout during prime-time hours, which has lead to a loss in revenue from gym memberships.
Hygiene Procedures:  The gym is currently spending a lot of time and money to provide adequate cleaning and disinfecting of the gym equipment and hand sanitation for all its members.
Use of gym around PT Sessions:  PT members are permitted to arrive at the gym 10 mins before their PT session commences, and use any of the cardio equipment for getting warmed up.  They are also permitted to use the cardio equipment for a 10 mins after their PT session has finished, to cool down, as well as make use of the stretching equipment such as rollers, stability balls or bands, and the stretching area, after PT sessions have ended.  
Showering:  PT members are permitted to use the changing rooms and showers after PT sessions.
Maxx Life Gym also provides a host of other services for its members, which all PT members can also avail of, such as;
Website login for nutritional information, meal plans and different challenges that we run via the website (all members will receive login details).
Leaflets and printed nutritional information (inc. new fat-loss booklet coming August)
Heating, air-conditioning and aroma scent (surprisingly, very few gyms locally provide heat or air-con, and none provide a pleasant aroma to cover the sweaty smells and disinfectant)
Access to 'Maxx+ Members Only' Facebook group, with online workouts from our trainers, and other health and fitness related posts 
Free entry into Maxx Member Challenges, such as the Team Fat Loss Challenge & Transformation Challenge starting 14th September, with a £800 in prizes.
Invitations to Maxx Social Events, which are all now strictly Members Only.  Our next social gathering is our annual day at the races on Saturday 12th September, details in the Maxx+ Members Only Facebook group.
Customer Liability Insurance: If you have an accident during your PT session, you are covered by your trainer's PT Insurance.  But if you have an accident at the gym, outside of your PT session, e.g. upon entering, warming up before hand, getting out of the shower, in the car park, you are covered by the gym's Customer Liability Insurance.
Maxx Rewards:  Our Maxx Rewards program was created to reward our members for their effort and loyalty.  Again, we made this available to all PT clients, at no added expense to the client or the trainer.  New Rewards program coming Autumn 2020.
& any new member benefits that we provide in the future.
We like to go over and above in providing for fantastic benefits to our gym members, and we don't want to exclude PT clients, therefore the PT membership fee ensures that everyone who trains in Maxx Life has membership status.
There are 3 ways that you can PT Member.
1. By purchasing PT Membership for £9.95 a month by Direct Debit, with no contract. If you decide to stop your PT sessions for any reason, we will automatically stop your PT membership. To setup the direct debit, simply use the link below.
2. By paying in cash to your trainer. PT membership costs £30 for 3 months, which you can give to your trainer who will forward it to the gym.
3. By becoming any other type of Maxx Life member. PT Membership is only required by any non-members, so if you already have a Maxx Life membership, then you will not require PT Membership, even if you get personal training.
If you get personal training with us, and go to at least 1 fitness class per week on a PAYG basis, then you should really consider our GOLD membership for £34.95 a month, which will give you unlimited classes for the month, and has the PT membership built into it. It also gives you other benefits, like being able to request regular block bookings for the class(es) that you attend regularly.
PT Membership + 2 fitness classes per week, would cost between £50-£55 per month on a PAYG basis, while only £34.95 a month with our GOLD membership, and it gives you the option of going to as many classes as you like. It's definitely worth considering it's value.
Please press an image below to setup membership, or if paying cash, please pay to your trainer who will pass it on to the gym. Thank-you.
[products ids="24013, 24178"]