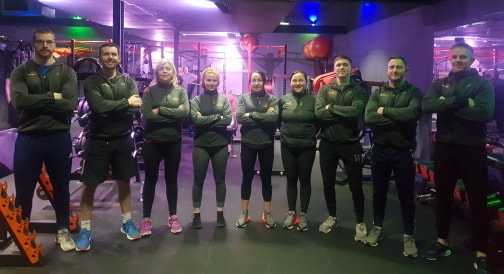 Updated Friday 5th August 2020
To all our Gym Members. 
It's great to have the gym back open and buzzing again.  And I'd like to welcome you back into Maxx Life.
A lot has changed since we closed down for lockdown, and now re-opened, we have introduced a few new procedures, that we feel is being responsible, given the current circumstances around Covid-19.
Maxx Life Gym Procedures July 2020;
Social Distancing:  One of the major changes since re-opening, is the requirement to Social Distance.
Before lockdown, most evenings, the gym was jam packed, and it was a scramble to get equipment.  We simply can't let that be the way anymore.  So we've had to introduce online booking in advance, for all your workouts.
We have divided the hours in the day between gym members time, and personal trainers time.  The following table will show the daily schedule.  
Online Booking: Our online booking system is maxxlifegym.com/diary.  You should save it to your home screen for easy access.  To book in a gym workout, simply press Classes > Gym Workouts.  You will need to register on the booking system, and it's a different login details to our website.
Duration:  Workouts can last as long as you want, as long as you finish before the allocated time for the personal trainers begins.
For example, if you book in for 2pm on a Monday, you've got to 4pm before your time is up.  However, if you start at 9:30am on a Monday, you have to be finished by 10am.
Please do adhere to the allocated times.  Not only does this allow for social distancing, but it provides a better workout environment for you, as our trainers and their clients will be out of your way, and you'll have much more space to move about and more equipment to use.
Hygiene Procedures:  There are hand sanitizers located around the gym, as well as lots of disinfectant.  Please take the time to wipe down all of your equipment, after you have finished using it

Showering:  Gym members are permitted to use the changing rooms and showers whenever necessary.
We regularly leave the gym un-staffed, trusting that our members will appreciate the gym and take care of it, keeping it clean and tidy.  But unfortunately that isn't always the case.  Some mornings when we come in, the place is in an absolute mess.  Most members do tidy up after themselves, but unfortunately there is a very small minority of members who ruin it for everyone, by leaving a trail of destruction behind them.
We would like to ask everyone to please follow these 10 Gym Etiquettes, so that all members can enjoy a clean and tidy gym. 
1. Please put your weights back
2. Wipe down your equipment when finished using it
3. Please put your weights back
4. Don't slam or drop the weights
5. Please put your weights back
6. Don't make unnecessary noises
7. Please put your weights back
8. Don't hog the equipment
9. Please put your weights back
10. Look after the gym, don't wear mucky trainers and put litter in the bins
If everyone follows the standard gym etiquette, you'll always be walking into a clean and tidy gym, allowing for a more pleasant workout.
Thank-you for your co-operation,
Your Maxx Life Team