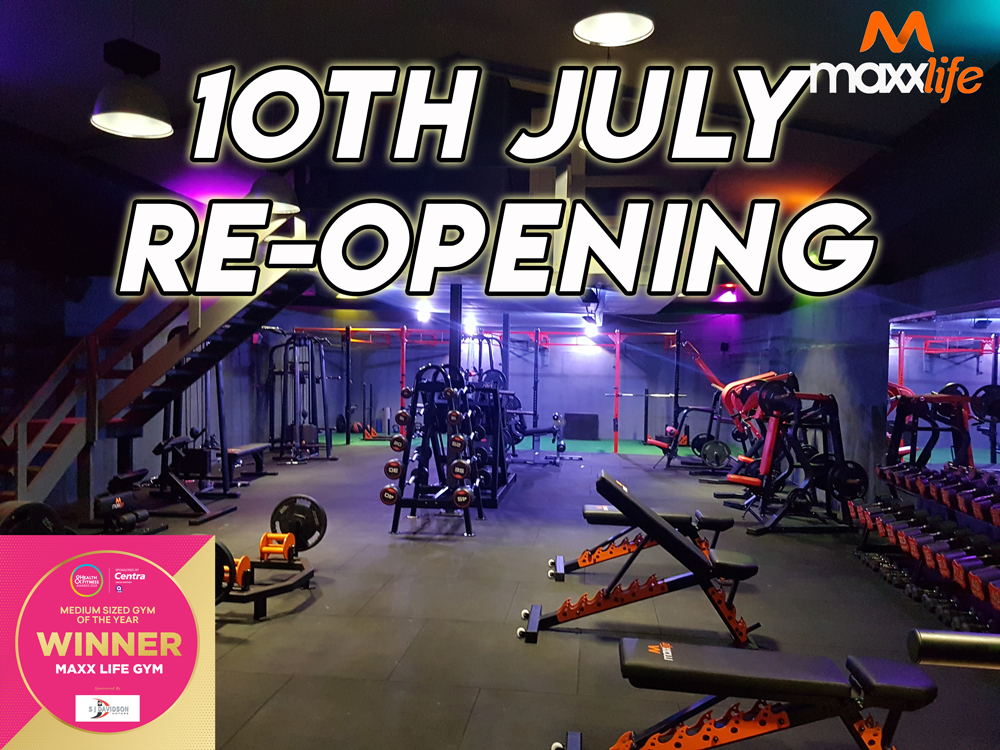 Alright you guys, the day many of us have been waiting on, will soon be here, and our whole team is very excited to get going again.
We had a great team meeting on Tuesday, and have put together a great plan of action for moving forward.
As always, the first port of call is to our loyal GOLD members.  As you are aware, we paused everyone's membership the day we went into lockdown, which was the 16th March.  We have all been though a lot since then, and life has changed for many people.
We understand that everyone is at a different stage, emerging out of lockdown at a different pace, and each with different concerns.
Some people can't wait to get back into the gym and start lifting heavy weights again, while others are still a bit apprehensive about being indoors with a larger number of people, and some are still shielding.
As we, Maxx Life, move forward and back into business, I just want to let everyone reading this know, that we are here to do our very best for everyone, we understand people's current situations, and have laid out a plan that will allow us to return to business while looking after our members best interests.
Plan of Action for Re-Opening
Firstly, the gym will be kitted out with new hygiene equipment, and with some new protocols in place.  I'll not be going into detail, I'm sure your sick of reading all the Covid rules in regulations businesses are putting in place.  Just know that the safety of our clients and trainers is our priority.
Phased Opening
When we re-open the gym, we will be controlling the numbers on the premises, to allow for 2m social distancing inside.
The gym will re-open on Friday 10th July, for standard gym workouts.
Thursday 16th July – Memberships can become un-paused on this day, so that they can continue from where they left off, on the 16th March.  This will leave it that anyone who un-pauses their membership on Thursday 16th July, will have their payments come out on the same day as it did before lockdown.  
E.g. if you payment was last taken on the 1st of March, you can start your membership on the 16th July, and your next payment will be the 1st of August.
There will be limited classes, including Spin and BootCamp, for the first week, as our trainers finish up in St. Lukes.  
Monday 20th July – Full class schedule will resume, with approximately 40 classes per week, similar to before Covid.  
We will have a range of classes, including outdoor classes in the marquee, indoor classes and Spin, both with restricted numbers to allow for social distancing.
Just to begin with, GOLD members will be limited to a maxximum of 2 classes per day, for the first week or 2, just until things settle down.
Not Just Ready To Start
If your not ready to start back to the gym, that is perfectly fine.  We will be giving a 1 month grace period, where everyone's membership will remain active, and paused.  Through-out this time, you will still be able to use the gym or attend a class as a PAYG customer.  
You will be able to un-pause your membership anytime up until the 16th of August.  When you un-pause your membership, any days you had remaining before we closed, will be added to your account, before your first payment is due.  If you need to change the new payment date, we can sort that.
If you decide not to un-pause you membership by the 16th August, it will then become de-activated.  To re-activate it, you will have to purchase it again via our website.
We're Ready if You Are
If you are ready to get back to the gym, and would like your membership setup to continue from where it left off, on the 16th, please let us know in the form below, and we will sort it.
If you're not sure yet when or if you will be un-pausing your membership, simply let us know below.  You can come back to this form anytime and re-submit a new response, or simply message us.
If you have decided that you will not be un-pausing your membership, and would like it de-activated instead, just let us know, and we will sort it.  And we will be sorry to be losing you as a member.
We are really looking forward to welcoming everyone back into the gym, and helping everyone get back into shape, and get moving on with our lives 🙂
Submitting this form may re-activate you membership if you choose to.
Thank-you, Anto