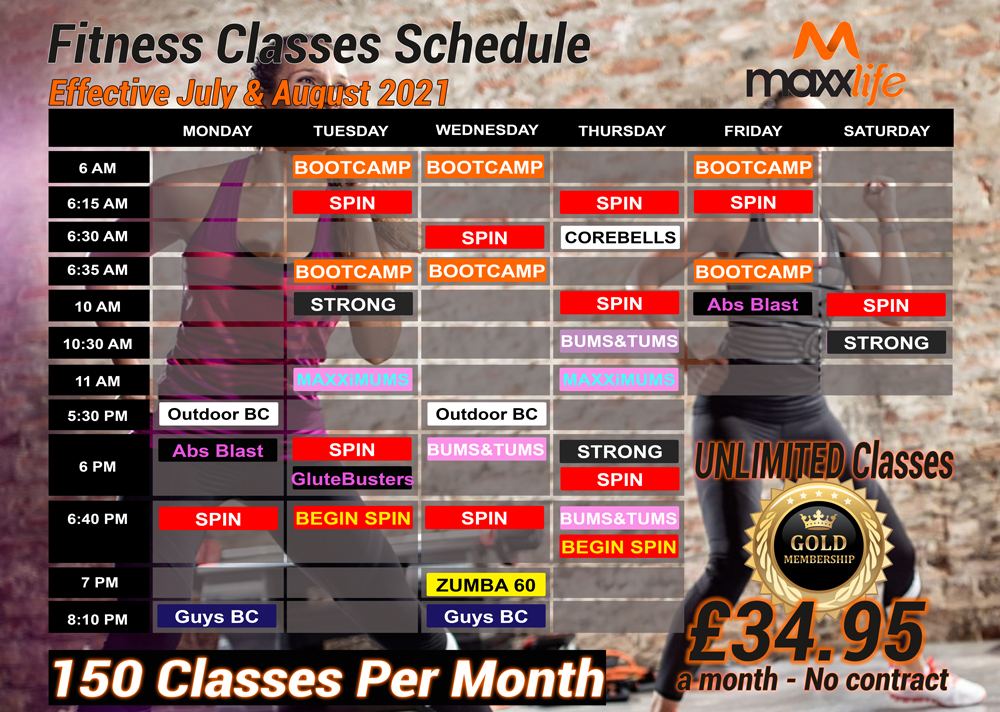 17 Different Types of Fitness Classes
With 55 fitness classes to choose from per week, starting from 6:30am to 8:45pm and weekends too, our classes fit even the most demanding schedule
We've designed our classes to suit all levels of fitness, as well as dedicated 'Beginner' Classes in BootCamp, Yoga and Spin. 
Our low cost, easy to pay price of only £5 per session, are there is our unbeatable GOLD 'Unlimited' membership.

Want a strong core or visible abdominal muscles, Absolutely Abs with Frances is a 30 minute complete Ab workout, that strengthens the whole core area, leaving you with a burn that will make you afraid to laugh.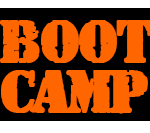 Maxx BootCamps are one of the best all-rounder classes, giving you a total full body workout in only 30 mins.  Maxx BootCamps are an intense workout, using a full range of gym equipment accessories, combining light resistance  exercises, with plyometrics and cardio, hitting every muscle group from the shoulders down to the legs.  BootCamps are instructed by various Maxx trainers. 

For the ladies who love to train the Booty, BootyCamp with Frances uses bands, plates and body-weight to sculpt and tone all 3 of the glute muscles, giving you a great calorie burn, and an even greater shape to your butt.

A cross between Absolutely Abs and BootyCamp, Bums&Tums with Christina consists of  a 15 minutes intense workout on the glutes, followed by a 15 minute intense workout on your abs. 

30 mins of Cardio30 burns as much calories as a 2 hour jog.  Cardio30 is an intense workout using only body weight and pushing you through all your full range of movements, to get you sweating, burn calories, push your heart and lungs into over-drive, and keep all your joints well oiled.

Circuits comprises of an intense cardio warm-up, followed by 2 circuits of 12 – 14 stations, each working a different muscle of the body.  Maxx Circuits is the complete full-body workout, using light resistance and fast reps to target every muscle group in the body.  Circuits is instructed by various Maxx trainers.

Circuits-X is our latest brand new Maxx class to be added to our schedule.  Circuit-X is a complete gym circuit, comprising of 12 to 18 different stations set out on the main gym floor.  Starting at any station, you will have to complete 1 or 2 rounds, moving through each station, using more or less, all of the equipment on the gym floor.  Circuits-X is the next level of circuits class.
CoreBells with Shane incorporates a full range of exercises with kettlebells and dumbbells, with a secondary focus on building strength to the core muscles using the resistance of the weights.

It's time to get the kids off the devices and onto the grass, with our fun-filled Maxx Family BootCamp.  Family BootCamp with Anto is suitable for all ages, and a great workout for the kids and parents.  It's a fantastic way to spend some quality fun time with the kids, while also introducing them to exercise, 

Guys Only BootCamp with Stevy and Darren will put any man through their paces.  Designed to suit absolute beginners or as a great addition to a regular weekly lifting program, the Guys Only BootCamp comprises of 2 full-body circuits, lifting heavy and hitting every muscle group, with just enough cardio to get the ol' ticker ticking. 

MaxxiMums is a Postnatal Exercise programme with our certified Pre/Post Natal instructor and mum of 3, Christina.  She has specifically designed this class for Mums returning to exercise after having a Baby, with the main focus to strengthen and restore your core and pelvic floor muscles, improve posture and reduce lower back pain issues that commonly arise during pregnancy.  This class is for mums of all fitness levels and abilities, and off course, their new born babies also.
From the Coolest Spin room around, over-looking the gym floor, Maxx Spin is a fantastic high intensity spin bike workout, choreographed to the music.  With 4 Maxx Spin Instructors, each with their own individual style of workout and music, any of our 16 weekly Maxx Spin classes will get you sweating and burning calories like never before.
Maxx Strong is a female only class for those who want to lift heavy, get strong, increase metabolism, feel the burn, sculpt and tone their body, all while boosting confidence.  Maxx Strong is female group weight lifting, comprising of sets and reps of all the main compound and isolation  lifts, targeting every muscle group in your body.

Teen Camp with Ciarrai is a bootcamp style workout for 11-16 year olds.  It comprises of mostly body-weight cardio exercises with some light resistance exercises, getting your young teens moving, jumping and sweating.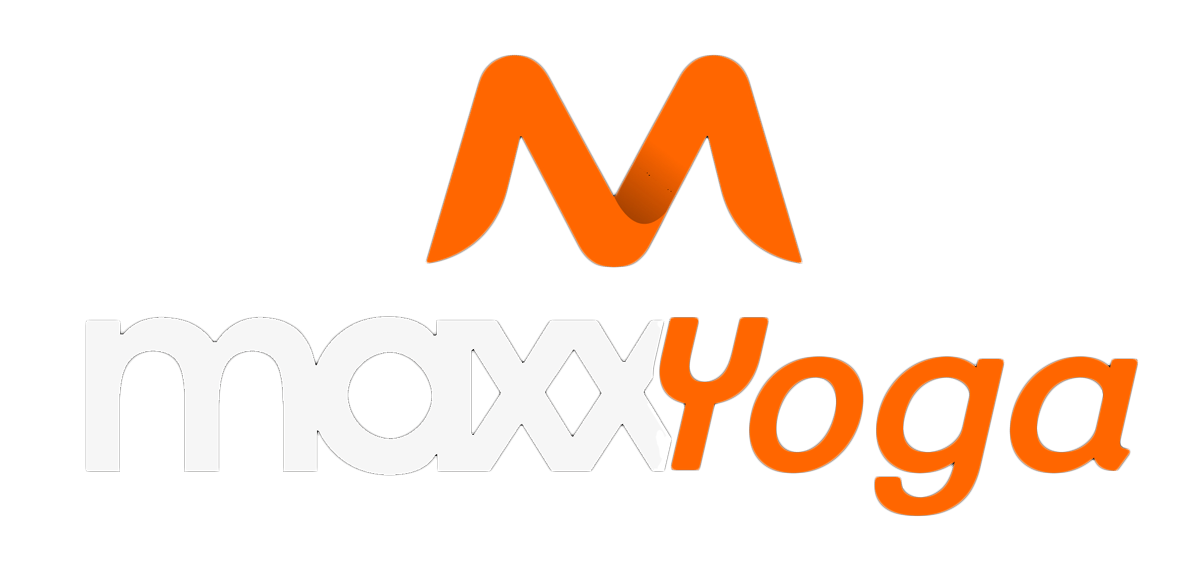 The one class that everyone should be taking, Maxx Yoga with Frances is an slightly faster moving Yoga class, with the meditation part removed.  Maxx Yoga will put your body through many yoga poses, stretching and releasing every muscle in your body, and having you sleeping like a baby.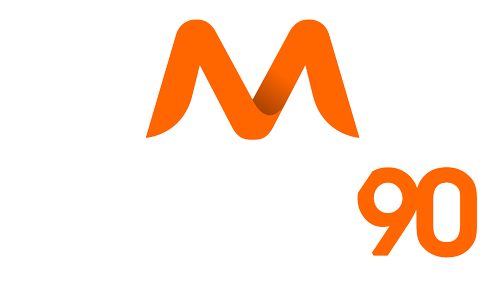 The 'Original' group training program at Maxx Life is back… Maxx90 is a female only group training program, comprising of 3 different 45 minute workouts per week, a nutritional program and meal plan… and the toughest part of all, the Challenge to last 4,8 or 12 weeks.  For full details, click on the Maxx90 logo.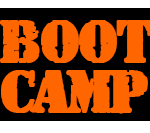 5 Classes Per Week with Anto Maxx, Beginner BootCamps are perfect for people starting off their health and fitness journey, or getting back into exercising after more than 6 months off.  The exercises are all similar to our standard Maxx BootCamps, but done at a lower intensity and with more rest.  4 to 8 weeks at Beginner BootCamp and you'll be ready to move up to the next level.
Every Tuesday at 6:30pm and Thursday at 6pm with Anto, Beginner Maxx Spin is for anyone who has never tried Spin before, or those who are returning to exercise after more than 6 months out.  The class is done at a lower intensity than the standard Maxx Spin, with longer rest periods in between tracks.  4 to 6 weeks at Beginner Spin and you'll be ready to move up to the next level.
Every Wednesday at 8:30pm, Beginner Maxx Yoga with Frances is the ideal starting point for anyone who has never tried yoga before, or hasn't done yoga for over a year.  Yoga is a very progressive class, and beginners can feel lost in a regular yoga class, working beside long term clients.  Beginner Maxx Yoga is run as a 5 week course.  Click the Yoga logo for full details to and get signed up for the course.
Classes for Gold Members*
Important Notice: Any booking cancelled within 12h of class beginning, must be paid for in full. This also applies to members on our Unlimited Classes Gold Membership