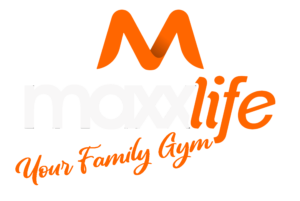 Look After Your Health & Fitness From Only
a Month

At Maxx Life, we offer our members so much more than just exercising.  We run large community 8 Week Challenges, as well as fun days out, charity fundraisers and loads more.  The Maxx Life community is at the heart of Maxx Life Gym.
'Excellence in Customer Service' 2022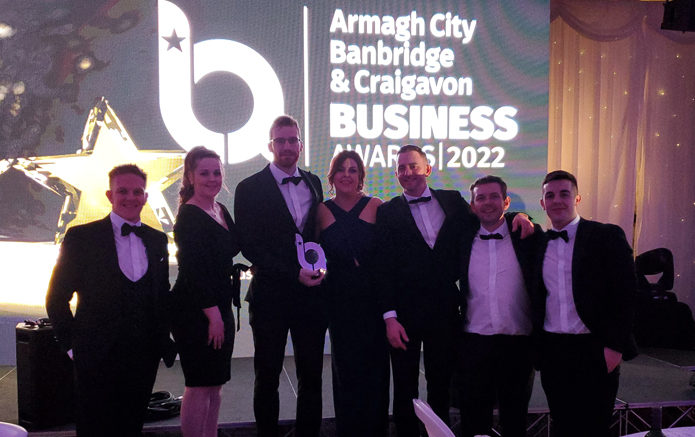 Pictured above at the Armagh Bandridge Craigavon Business Gala Awards on Thursday 26th Feb, 2022, are Maxx trainers, Stevy (left), Anna, Darren, Christina, Shane, Anto and Eoin (right)
We are absolutely over the moon, proud as punch, to be awarded a Winners for "Excellence in Customer Service" by the Armagh Banbridge & Craigavon Business Awards.
Customer Service is our Core Focus at Maxx Life, and the whole team at Maxx Life, really do work their asses off to excel themselves for all our clients. To Win such a prestigious award. and recognised for all our efforts, really is a testament to every member of the Maxx Life team.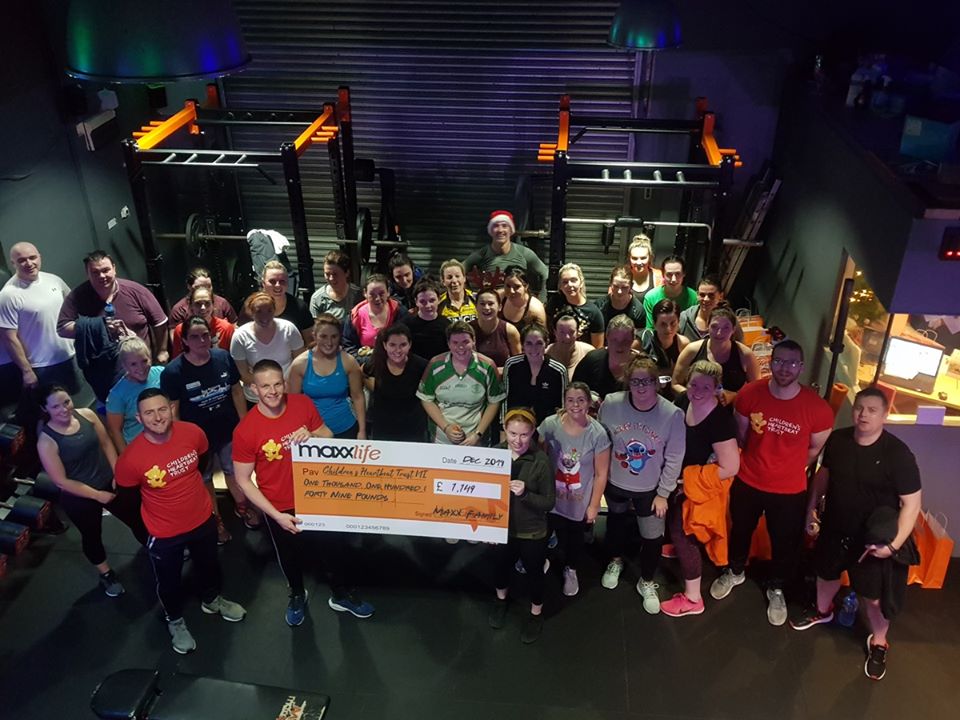 It's our mission to make Maxx Life an integral part of our members lives. We understand the everyday struggles and stresses of Life that so many people go through, and therefore we want Maxx Life Gym to make it's members lives better in many ways.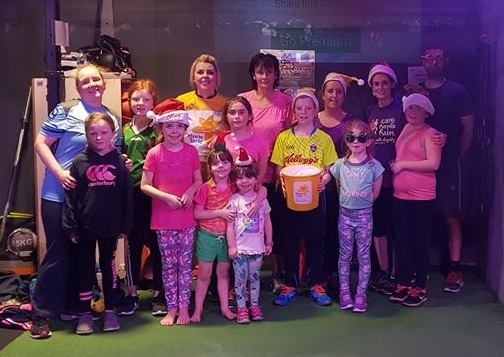 Maxx Life is a gym that supports the hard working mums and dads of our community.  It can be very difficult for parents to find time to get to the gym, so Maxx Life makes it easier for parents, by welcoming kids into our gym.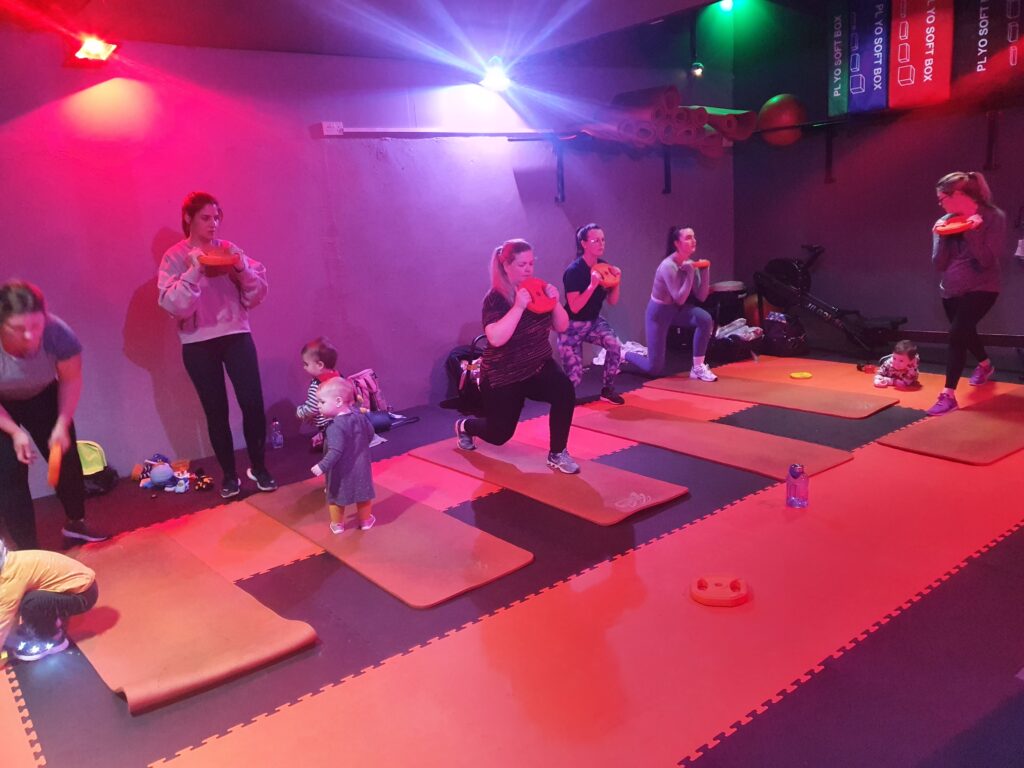 Gyms can be a very scary place, especially when one steps off the treadmill or out of the classes and wanders over to the weights area.  Big muscly men, grunting and groaning.  Not at Maxx Life.  We market our gym towards the normal gym goer, hardworking people with little spare time or the mums and dads looking to lose a bit of weight, improve their health and have fun.  We discourage body builders, power lifters or bikini models from joining Maxx Life.
Check out all our Equipment
All our equipment was recently upgraded in January 2022. We have some of the newest, best and highest quality equipment there is around. The main gym floor is fully kitted out with all the weight lifting equipment you need, including 4 Multi-Smith machines, each with a pair of cables. Our Leg Press doubles into a Hack Squat. Our other combi machines are Chest Press/Shoulder Press, Leg Curl/Extension, Bicaps/Triceps. We have a full set of Jordan dumbbells and EZ barbells. Our Fitness Class area with foam flooring, has loads of functional equipment, and is a great area for stretching. For cardio fans, we have 3 new Treadmills, 2 Cross-Trainers, Rower, Skillmill, 2 Air-bikes and 2 Ski-Erg, all fantastic for high burst cardio. And our Spin Room has 23 of the latest Body Bikes.
Affordable Personal Training
Do You Want All The Benefits of Weight Training?
Do You Need That Extra Push In The Gym?
Do You Need On-going Nutritional Advice?
Do You Need A High Level Of Accountability?
Then Personal Training is
Our Maxx Team of 7 Qualified Trainers Are Here To Push You Every Bit Of The Way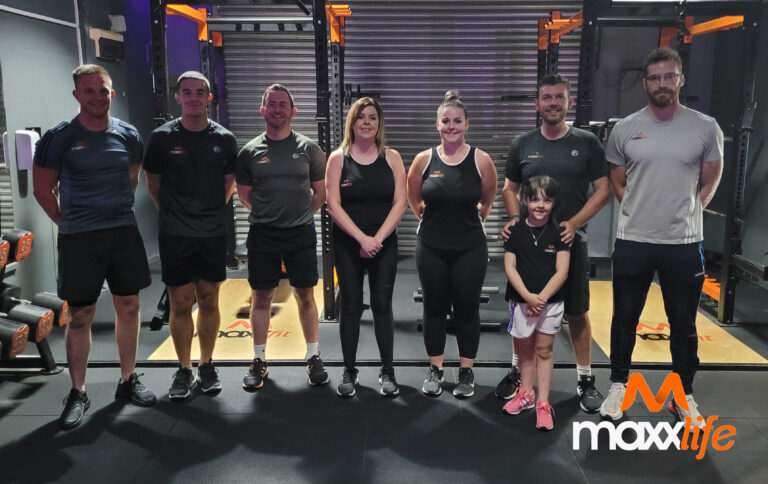 Build A weekly training program to suit your schedule and budget
& Pay Per Session, so no need for large block booking payments.
Modern Changing Facilities
Shower in the comfort and privacy of your own individual shower room, fitted out with digital sports shower and LED heated mirror.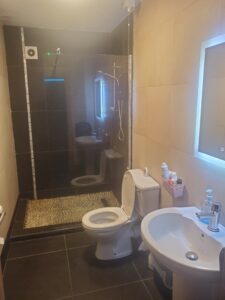 We have completely stripped back the costs of fitness, offering no-contract memberships from £25 a month. Over 200 fitness classes a month, you can get 10 Classes per Month with our Silver Membership, or Unlimited Classes & Gym memberships for £35 a month!
Affordable Personal Training​
With the average price for local personal trainers costing £25-£30 per session and upwards, and often requiring block payment packages, Maxx Life has stripped it's coaching and personal training prices right down to the lowest prices around, for only £10 /members or £12.50 /non-members per session. You make up a weekly package to suit your needs, schedule and budget, and simply pay after each session.
A Gym Community For Results
Simply having a gym membership doesn't entitle you to achieve great results.  It's what you do in the gym that counts.  Most gyms work on getting members signed up, then leave them to their own devices.  At Maxx Life, we offer you so much more than a large room of equipment.  We have built a fantastic gym community, where our members work together, completing community challenges that we set them, all aimed at making our members the best versions of themselves.
Over 220 Fitness Classes Per Month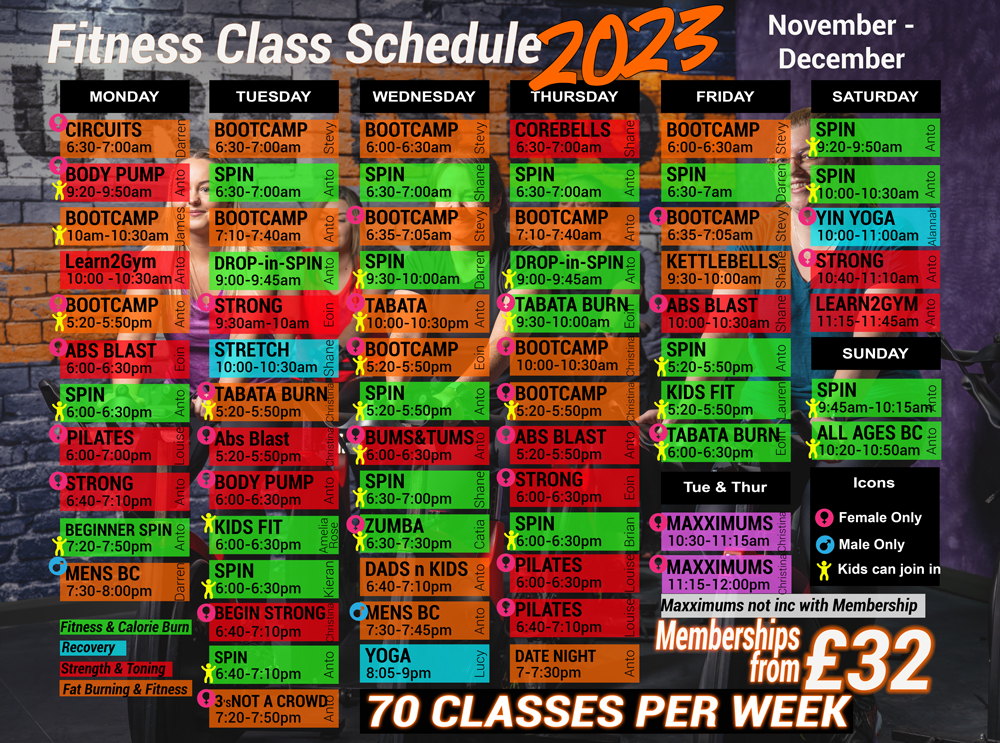 Over 200 Fitness Classes Per Month
With 50 fitness classes to choose from each week, 7 days a week, starting from 6am to 8pm and weekends too, our classes provide something for everyone, and fit even the most demanding schedule.
Perfect For Beginners & Advanced
Many of our fitness classes are designed to suit all levels of fitness, with some classes such as Beginner BootCamp and Beginner Spin, created specifically for people just starting out.
We offer 3 unbeatable high value, low cost, ways of paying for our fitness classes.  There is the easy to pay price of only £5 per class, Pay-As-You-Go option.  Or any 10 Classes each month for £20.  Or for the serious class goer, get 'Unlimited' classes and gym membership for the special offer price of £3 a month direct debit, with no contract.
Join Armagh's 'Family Gym' Now
With Any Of The Packages Below
And Remember, Absolutely No Contract - Cancel Anytime....
Memberships without Fitness Classes
Standard
Monthly Direct Debit
£
38
a month - No Contract
Cancel Anytime - No Contract
Off-Peak
Monthly Direct Debit
£
32
a month - No Contract
Cancel Anytime - No Contract
Memberships with Fitness Classes
Silver
Monthly Direct Debit
£
32
a month - No Contract
Cancel Anytime - No Contract
Gold
Monthly Direct Debit
£
42
a month - No Contract
Cancel Anytime - No Contract
Family
Monthly Direct Debit
£
80
a month - No Contract
Cancel Anytime - No Contract